How To Apply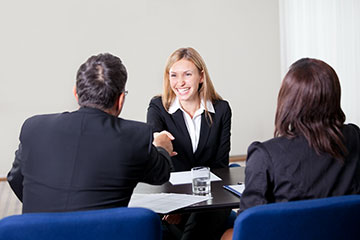 If this is the first time you are applying using our online job application, you will need to create an account and select a Username and Password. After your account has been established, you can build an application by clicking on the "Build Job Application" link. This application can be saved and used to apply for more than one job opening. Recruitments that are open only to current County employees or which are Department Promotional only and transfer opportunities can be found by choosing the button on the left that says "Job Opportunities (employees only)".
Important documentation advice:
Review the job flyer for any requirements such as certificates, proof of education, typing certificate or other documentation listed in the minimum requirements section of the job announcement. Please make sure to attach all appropriate documents to the online application or fax to the Chief Executive Office before 5:00 p.m. on the final filing date listed on the flyer or your application will be deemed incomplete. You can scan documents and obtain free typing certificates at various County Workforce Development Centers; however, they have limited hours for testing and you will need to call for their hours of availability: Oakdale Office (209-322-3564); Turlock Office (209-664-8306); Westside Service Center (209-525-4908). Certificates can be faxed to our office at (209) 544-6226 or brought to the Chief Executive Office at 1010 10th St, Ste 6800, Modesto, CA before 5:00 p.m. on the Final Filing Date. Certificates may be mailed as well but must be received by the Chief Executive Office prior to 5:00 p.m. on the Final Filing Date. Online Typing Certificates will not be accepted. Typing Certificates must be dated, printed on letterhead of the issuing agency and signed by that agency. Typing certificates are valid for four (4) years from the date of the test. Online applications are stored on a secure site where only authorized employees and hiring authorities have access to the information submitted. Do not substitute any part of the Application form with the words "See Resume" as resumes are not accepted in lieu of a completed application.
Account Updates:
Changing personal account information in NEOGOV will update only personal information; i.e., name, address, phone #, etc. on already submitted application(s), however, it will not update your email address on already submitted application(s). It is essential to notify Human Resources of any changes made to your personal email address in NEOGOV in order to receive recruitment notices in a timely manner for application(s) already submitted. Updates can either be sent to jobhelp@stancounty.com or by calling Human Resources at (209) 525-6341.
Caution:
Sharing your www.Governmentjobs.com account or the email address you used to create your account with anyone will permanently corrupt your historical/application data in the system.
Spam Filters:
Please be advised that recruitment notifications and correspondence are sent via e-mail. If your email account has a spam blocker activated, it may reject our notifications as an unrecognized email address. In case this happens, you may want to check your spam mail periodically for any email notifications. Also make sure your email is entered correctly. Both situations can cause the notifications to be returned as "undeliverable."